Gil Scott-Heron - Free Will (Flying Dutchman FD 10153, 1972)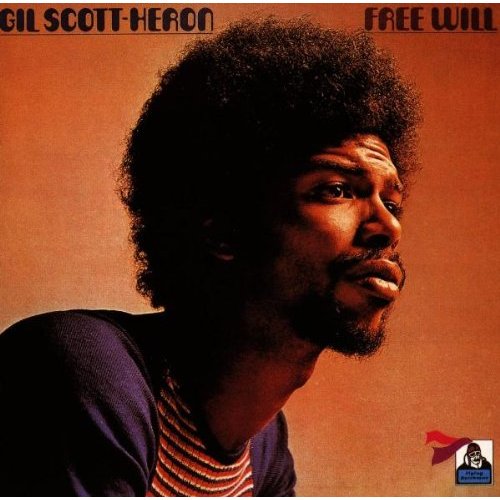 Titres
A1 Free Will Scott-Heron, B. Jackson 3:30
A2 The Middle of Your Day Scott-Heron, B. Jackson 4:30
A3 The Get out of the Ghetto Blues Scott-Heron, B. Jackson 5:04
A4 Speed Kills Scott-Heron, B. Jackson 3:15
A5 Did You Hear What They Said? Scott-Heron, B. Jackson 3:28
B1 The King Alfred Plan Scott-Heron 2:45
B2 No Knock Scott-Heron 2:12
B3 Wiggy Scott-Heron 1:38
B4 Ain't No New Thing Scott-Heron 4:29
B5 Billy Green Is Dead Scott-Heron 1:30
B6 Sex Education: Ghetto Style Scott-Heron 0:50
B7 ... And Then He Wrote Meditations Scott-Heron 3:14
Crédits
Gil Scott-Heron
: chant, piano, guitare
Brian Jackson
: piano, piano électrique, chant
Gerald Jemmott
: basse
David Spinozza
: guitare
Pretty Purdie
: batterie
Eddie Knowles
: percussions
Charles Saunders
: percussions
Hubert Laws
: flute, petite flute
Arrangements :
Horace Ott
Production :
Bob Thiele
Après le succès artistique et commercial de
Pieces Of A Man
, son album le plus connu, Gil Scott-Heron retourne en studio en 1972 pour graver
Free Will
, produit à nouveau par Bob Thiele.
Il retrouve Brian Jackson ainsi que certains des musiciens qui avait collaboré à l'album précédent (à l'exception notable de Ron Carter, remplacé par Jerry Jemmott). Il retrouve aussi les percussionnistes qui étaient présents sur
Small Talk At 125th And Lenox
.
L'album est musicalement parlant une fusion des deux premiers : la première face est en effet très orchestrée, dans la lignée de
Pieces Of A Man
, en témoigne le morceau titre qui ouvre l'album.
Free Will
Le titre suivant est tout aussi bon, il s'agit de "The Middle of Your Day"
Gil nous offre ensuite un beau blues, "The Get Out Of The Ghetto Blues", avec David Spinozza à la guitare
La face A aurait pu être grandiose si "Speed Kills" avait été laissé de côté. Dommage...
Heureusement, la face A se clôt avec le splendide "Did You Hear What They Said"
A l'instar du premier album de Gil, la seconde face de
Free Will
est musicalement plus austère, mais la puissance du message n'a pas perdu de sa force. Voici "Ain't No New Thing"
Ce titre s'en prend au pillage de la musique noire-américaine par les Blancs, pillage déjà dénoncé entre autres par Charles Mingus.
We used to white people tryin' to rob us
Why don't they try stealing some of this power
It ain't no new thing … anything they don't understand
They try to destroy
We used to having black innovators
copied and sent back to us
We used to having people try to rob us,
it ain't no new thing
Free Will
est donc un bel album, plus inégal cependant que le précédent mais qui est une pierre essentielle dans l'édifice construit par Gil Scott-Heron, édifice qui trouvera son achèvement avec le superbe
WInter In America.