Lonnie Liston Smith & The Cosmic Echoes - Reflections Of A Golden Dream
Posté : 30 avr. 2016 23:01
Lonnie Liston Smith & The Cosmic Echoes - Reflections Of A Golden Dream
(Flying Dutchman BDL 1-1460, 1976)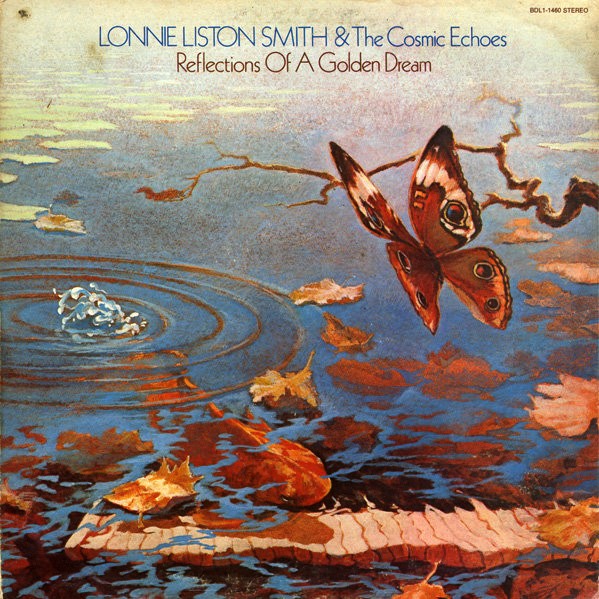 Gatefold intérieur
Titres
A1
Get Down Everybody (It's Time For World Peace)
(Lonnie Liston Smith)
Lonnie Liston Smith : chant principal, piano électrique, autres [Electric Colorations]
Maeretha Stewart, Patti Austin, Vivian Cherry : chœurs
Arthur Kaplan : saxophone baryton
Al Anderson : basse
Leopoldo Fleming : basse, percussions
Wilby Fletcher : batterie
Guilherme Franco : percussions
David Hubbard : saxophone, flûte
George Opalisky : saxophone ténor
Joe Shepley, Jon Faddis : trompette, flugelhorn
A2
Quiet Dawn
(Lonnie Liston Smith)
Lonnie Liston Smith : piano, autres [Electronic Colorations]
Al Anderson : basse
Leopoldo Fleming : basse, percussions
Wilby Fletcher : batterie
David Hubbard, Donald Smith : flûte
Guilherme Franco : percussions
A3
Sunbeams
(Lonnie Liston Smith)
Lonnie Liston Smith : piano, autres [Electronic Colorations]
Al Anderson : basse
Leopoldo Fleming : basse, percussions
Wilby Fletcher : batterie
Donald Smith : flûte
Guilherme Franco : percussions
David Hubbard : saxophone
A4
Meditations
(Lonnie Liston Smith)
Lonnie Liston Smith : piano
Guilherme Franco, Leopoldo Fleming : percussions
A5
Peace & Love
(Leopoldo Fleming)
Lonnie Liston Smith : chant, autre [Funky Electronic Textures]
Donald Smith : chant principal
Maeretha Stewart, Patti Austin, Vivian Cherry : chœurs
Leopoldo Fleming : chant, guitare, congas, percussions
Arthur Kaplan : saxophone baryton
Al Anderson : basse
Wilby Fletcher : batterie
Guilherme Franco : percussions
David Hubbard : saxophone
George Opalisky : saxophone ténor
Joe Shepley, Jon Faddis : trompette, flugelhorn
B1
Beautiful Woman
(Lonnie Liston Smith)
Lonnie Liston Smith : piano électrique, autre [Electronic Colorations]
Donald Smith : chant principal
Al Anderson : basse
Leopoldo Fleming : basse, percussions
Wilby Fletcher : batterie
Guilherme Franco : percussions
David Hubbard : saxophone soprano
B2
Goddess Of Love
(Lonnie Liston Smith)
Lonnie Liston Smith : piano électrique
Al Anderson : basse
Leopoldo Fleming : basse, percussions
Wilby Fletcher : batterie
David Hubbard, Donald Smith : flûte
Guilherme Franco : percussions
B3
Inner Beauty
(Lonnie Liston Smith)
Lonnie Liston Smith : piano électrique
Donald Smith : chant principal
Leopoldo Fleming : basse, percussions
Guilherme Franco : percussions
David Hubbard : saxophone soprano
B4
Golden Dreams
(Lonnie Liston Smith)
Lonnie Liston Smith : piano électrique, autre [Electronic Colorations]
Al Anderson : basse
Leopoldo Fleming : basse, percussions
Wilby Fletcher : batterie
David Hubbard, Donald Smith : flûte
Guilherme Franco : percussions
B5
Journey Into Space
(Lonnie Liston Smith)
autre : Cosmic Beings
Mixage :
Alan Varner, Lonnie Liston Smith
Producteur :
Bob Thiele, Lonnie Liston Smith
Certain d'avoir chroniqué ce très bon album, je répare l'erreur !
Si vous aimez
Visions Of A New World
et
Expansions
, allez-y,
Reflections
est peut-être légèrement en-dessous mais reprend les mêmes ingrédients. Toujours chez
Flying Dutchman
et produit par
Bob Thiele
.
Tout commence par une superbe pochette gatefold. Le genre où la force de l'illustration prend une autre dimension lorsqu'elle se trouve sous nos yeux en comparaison de celle du cd.
L'album s'ouvre sur un morceau vocal, musicalement très funky et plein d'énergie.
Get Down Everybody
secoue le cocotier !
Encore un nom justement approprié ;
Quiet Dawn
. On aurait difficilement mieux trouvé, et comme l'aube, ce morceau ne dure que très peu de temps alors profitons de sa majesté.
Sunbeams
suit l'aube, ces rayons de soleil donnent vie à la nature où tout se réveille, faune et flore jaillissent de partout avec ce bon sentiment : montrer ce qu'ils ont de meilleur à partager les uns aves les autres.
Meditations
renoue avec
Astral Traveling
sans la fièvre du souffleur, les effleurements ou les appuis des touches et les percussions suffisent à la détente. Tout simplement beau.
Peace And Love
clôt la boucle de cette face A, un funk vocal gentillet et efficace bien que ne démarrant jamais vraiment.
La face B démarre comme la première, en trombe, avec une version quelque peu revisitée de
Beautiful Woman
(album
Cosmic Funk
). Le chant se pose sur une musique entraînante et vitaminée.
Goddess Of Love
et
Golden Dreams
, autres grands temps forts, puissants de plénitude et mènent au lâcher-prise. Tout ce qu'il y a à faire et de se laisser aller à l'écoute, la musique faisant le reste sur nos sens.
Inner Beauty
, perso j'ai toujours été hermétique à ce titre, la faute à sa place dans la tracklist ? Peut-être.
Journey Into Space
, tendance expérimentale, aurait pu davantage se nommer Journey Into Jungle !
Encore un très bon album de cette formation et comme les autres, à goûter sans modération. Une piqûre chronique pour une parfaite santé !
A1. Get Down Everybody
A2. Quiet Dawn

A3. Sunbeams
A5. Peace And Love -
VERSION PITCHEE
B2. Goddess Of Love

B3. Inner Beauty
B4. Golden Dreams

B5. Journey Into Space