Gladys Knight And The Pips - Neither One Of Us
Posté : 13 mai 2012 09:07
Gladys Knight And The Pips - Neither One Of Us

(Soul 737, 1973)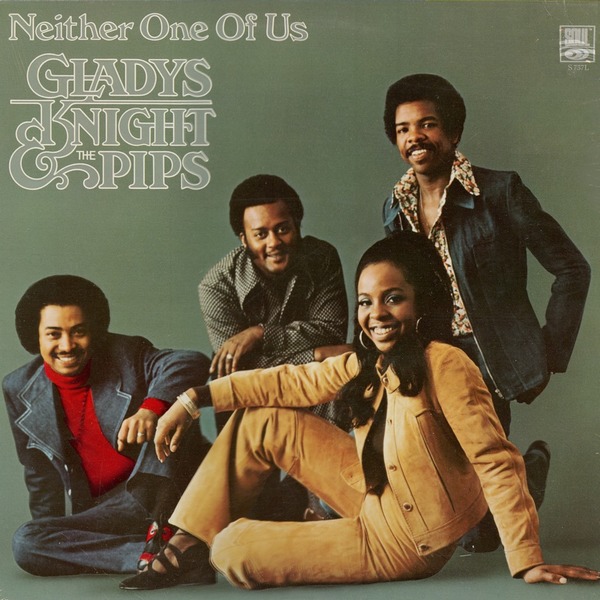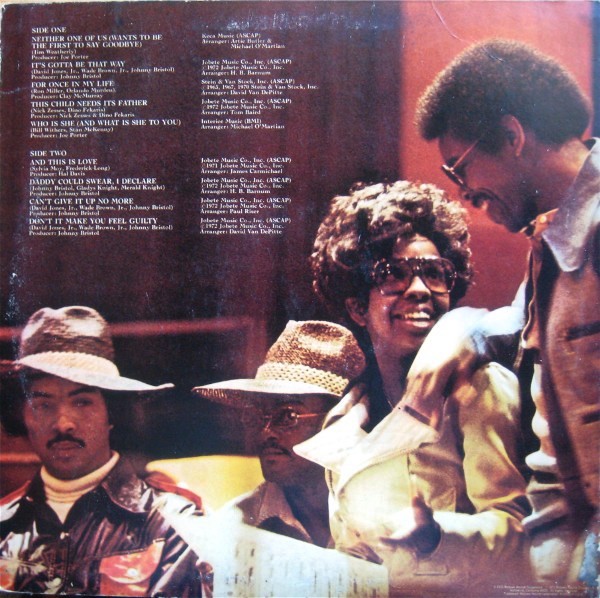 Titres
A1 Neither One Of Us (Wants To Be The First To Say Goodbye)
(Jim Weatherly)
4:15
A2 It's Gotta Be That Way 4:32
(David Jones Jr., Johnny Bristol, Wade Brown, Jr.)
A3 For Once In My Life 4:00
(Orlando Murden, Ron Miller)
A4 This Child Needs Its Father 3:15
(Dino Fekaris, Nick Zesses)
A5 Who Is She (And What Is She To You) 4:12
(Bill Withers, Stan McKenny)
B1 And This Is Love 3:21
(Frederick Long, Sylvia Moy)
B2 Daddy Could Swear, I Declare 3:42
(Merald Knight, Gladys Knight, Johnny Bristol)
B3 Can't Give It Up No More 3:38
(David Jones Jr., Johnny Bristol, Wade Brown Jr.)
B4 Don't It Make You Feel Guilty 3:48
(David Jones Jr., Johnny Bristol, Wade Brown Jr.)
Arrangements :
Artie Butler
et
Michael O'Martian
(A1),
Tom Baird
(A4),
Michael O'Martian
(A5),
James Carmichael
(B1),
H.B. Barnum
(A2, B2),
Paul Riser
(B3),
David Van DePitte
(A3, B4)
Production :
Joe Porter
(A1, A5),
Johnny Bristol
(A2, B2, B3, B4),
Clay McMurray
(A3),
Dino Fekaris
,
Nick Zesses
(A4),
Hal Davis
(B1).
Huitième (
je ne compte pas le greatest hits
) album sur le label Soul de ce groupe vocal qui enregistre depuis 1957 !
Enregistré en 1971 et 72, il ne sortira qu'en février 1973 pour contrecarrer le premier album Buddah 5141.
Les amateurs de funk apprécient cet album pour des titres comme "Who Is She" ou "Daddy Could Swear, I Declare".
Moi ce qui me fait craquer c'est "Neither One Of Us", "It's Gotta Be That Way" et "This Child Needs Its Father" et... tout le reste !
Neither One Of Us (Wants To Be The First To Say Goodbye)
It's Gotta Be That Way
For Once In My Life
This Child Needs Its Father
Who Is She (And What Is She To You)
Daddy Could Swear, I Declare
Can't Give It Up No More
Don't It Make You Feel Guilty