Various - What It Is! Funky Soul And Rare Grooves 1967-1977
(Rhino Records R2 77635, 2006) coffret 4 x CD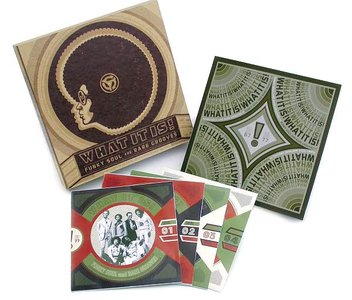 Titres
1-1 The Watts 103rd St. Rhythm Band – Spreadin' Honey
1-2 Bar-Kays – Soul Finger
1-3 Brother Jack McDuff – The Shadow Of Your Smile
1-4 Jimmy Norman – Gangsters Of Love (Parts I & II)
1-5 Rufus Thomas – The Memphis Train
1-6 Grassella Oliphant – Get Out Of My Life Woman
1-7 Eddie Harris – Live Right Now
1-8 Natural Bridge Bunch – Pig Snootss, Part I
1-9 The Freedom Sounds – Soul Sound System Featuring – Wayne Henderson
1-10 Clarence Carter – Snatching It Back
1-11 Artie Christopher – Stoned Soul
1-12 The T.S.U. Toronadoes – Getting The Corners
1-13 Tony Alvon & The Belairs – Sexy Coffee Pot
1-14 Mark Putney – Don't Come Around Here Anymore
1-15 The Commodores – Keep On Dancing
1-16 The Southshore Commission – Right On Brother - Part I
1-17 Eldridge Holmes – Pop, Popcorn Children
1-18 Cold Grits – It's Your Thing
1-19 Soul Angels – It's All In Your Mind
1-20 Johnny Cameron & The Camerons – Funky John
1-21 Joyce Jones – Help Me Make Up My Mind
1-22 Lou Johnson – Rock Me Baby
1-23 Noble Knights, The – Sing A Simple Song
1-24 Titus Turner – Do You Dig It
1-25 Phil Moore Jr. – Funky Canyon
1-26 The Fabulous Counts – Jan Jan
1-27 The Rhine Oaks – Tampin
2-1 Cyril Neville – Gossip
2-2 The Mighty Hannibal – Somebody In The World For You
2-3 Little Sister – Stanga
2-4 Ananda Shankar – Jumpin' Jack Flash
2-5 Brute Force – The Deacon
2-6 The Don Covay / Jefferson Lemon Blues Band – Sookie Sookie
2-7 Clarence Wheeler/The Enforcers* – Right On
2-8 Curtis Mayfield – (Don't Worry) If There's A Hell Below We're All Going To Go
2-9 Johnny Harris – Stepping Stones
2-10 6ix – I'm Just Like You
2-11 The Unemployment – Funky Thing - Part I
2-12 Shirley Scott – Messie Bessie
2-13 Willie West – Fairchild
2-14 The Gaturs – Cold Bear
2-15 Mongo Santamaria – I Can't Get Next To You
2-16 Lulu – Feelin' Alright
2-17 Memphis Horns – Soul Bowl
2-18 Hammer – Tuane
2-19 Johnny Tolbert & De Thangs – Take It Off - Part II
2-20 Harlem River Drive – Seeds Of Life Featuring – Eddie Palmieri, Jimmy Norman
2-21 Wilson Pickett – Engine Number 9
3-1 Baby Huey & The Baby Sitters – Hard Times
3-2 Houseguest – What So Never The Dance - Pt. 1 & 2
3-3 Eugene McDaniels – Headless Heroes
3-4 Wade Marcus – Spinning Wheel
3-5 Earth, Wind & Fire – Bad Tune
3-6 Rasputin's Stash – Mr. Cool
3-7 Junior Mance – Don't Cha Hear Me Callin' To Ya 5
3-8 The Stovall Sisters – Hang On In There
3-9 The Beginning Of The End – Funky Nassau (Part III)
3-10 Mark Holder/The Positives* – Whatever's Fair
3-11 Ed Robinson – Face It
3-12 Young-Holt Unlimited – Wah Wah Man
3-13 Aretha Franklin – Rock Steady (Alternate Mix)
3-14 Black Haze Express – Won't Nobody Listen
3-15 Allen Toussaint – Goin' Down
3-16 Malo – Suavecito
3-17 Charles Wright – You Gotta Know Whatcha Doin'
3-18 Tami Lynn – Mo Jo Hanna
3-19 King Curtis – Ridin' Thumb
3-20 Macondo – Almendra
3-21 Little Richard – Nuki Suki
4-1 United 8 – Getting Uptown (To Get Down)
4-2 Howard Tate – 8 Days On The Road
4-3 Labelle – Moon Shadow
4-4 Society's Bag – Let It Crawl
4-5 Black Heat – Wanaoh
4-6 Clarence Reid – If It Was Good Enough For Daddy
4-7 Claudia Lennear – Everything I Do Gonna Be Funky
4-8 The Mystic Moods – Cosmic Sea
4-9 Cold Blood – Kissing My Love
4-10 Seatrain – Flute Thing
4-11 The Meters – Chug Chug Chug-A-Lug (Push N' Shove) Part II
4-12 Freddi/Henchi & The Soul Setters – Funky To The Bone
4-13 Bobby Byrd – Try It Again
4-14 Cornell Dupree – Teasin'
4-15 Dr. John – (Everybody Wanna Get Rich) Rite Away
4-16 Oscar Brown, Jr. – Chicken Heads
4-17 Funk Factory – Rien Ne Va Plus
4-18 Herbie Mann – Cajun Moon
4-19 Darrow Fletcher – Improve
4-20 Faze-O – Riding High
4-21 Fred Wesley & The Horny Horns – Four Play
4-22 Eddie Hazel – California Dreamin'
C'était il y a une éternité. Je découvrais le funk, la soul et la black-music et je pensais, candide que j'étais, qu'avec mon petit Donny Hathaway j'étais un connaisseur. C'était il y a une éternité, car plusieurs centaines de CDs plus tard, plusieurs milliers de pistes écoutés après, je découvre chaque jour un peu plus à quel point je suis un ignare.
C'était il y a une éternité et un jour, ne me demandez plus comment - à moins que ce ne soit lors d'une de ces séances où en naviguant de blog en blog - je suis tombé sur cette compilation. A l'époque je ne connaissais pas le label Rhino. Je n'avais aucune idée non plus de ce que pouvait être un excellent box set.
J'ai commandé tout ceci sur un site américain bien connu, pour une cinquantaine de dollars. Me disant que pour 4 CDs le prix payé n'était pas déraisonnable. Et lorsque je l'ai reçu, ce fut la claque. D'abord l'objet. Excellente facture,
cover
très sympa et un livret détaillant très précisément chacun des titres. Ensuite, ces 4 CD constituent une incroyable mine et je me suis rendu compte que, bon sang de bonsoir, je kiffais ce style musical, que dis-je ces styles musicaux et qu'il allait me falloir m'y pencher plus sérieusement. Enfin, je me suis alors dit qu'une compile de bonne facture était un excellent moyen de découvrir et de se forger une culture musicale. Depuis, le nombre de compiles dont je dispose s'est considérablement étoffé et doit représenter environ 70 % des CDs dont je dispose comme par exemple la terrible Funk Box, ou l'intégrale des Motown Singles (toutes deux éditées chez Hip-O-Select)
Cette compile marque donc un peu le début de l'aventure funk & soul de votre serviteur. J'aurais l'occasion de vous en proposer d'autres durant le WE...
Un avis bien plus éclairé que le mien sur la bête...
Allmusic a écrit : A righteous undertaking of great magnitude, What It Is! Funky Soul and Rare Grooves trawls through a decade-long stretch of the Warner-distributed archive -- taking in the catalogs of Warner Bros., Atlantic, Reprise, Atco, and smaller nodes like Cotillion, Curtom, Alston, and Jonie -- and pulls up 80 soul/funk truffles, almost all of which were left for dead shortly after release. While many of these cuts have been repurposed as vital ingredients of hip-hop tracks, which has in turn fostered a voracious collector's market (it would cost a fortune to collect these songs in their original formats of release), the box is a leagues-deep trawl through an otherwise forgotten past. There are few well-known names on these four discs, but even they tend to be represented by selections that are not obvious. Curtis Mayfield's "(Don't Worry) If There's a Hell Below We're All Going to Go" is likely the best-known inclusion, and after a substantial number of cuts that can't be considered truly rare, there's a sudden drop into (sweet, sweet) oblivion -- unless you're of the small minority whose spines tingle at the sight of names like Grassella Oliphant and Rasputin's Stash. The chicken-scratch guitars, wild Hammond B-3 runs, group chants, and blaring horn punches are served by the dozens, but the box also illustrates an evolution that took place through the '70s. Since the sequencing is, for the most part, chronological, those changes are all the more perceptible. Funk Factory's "Rien Ne Va Plus" and Faze-O's "Riding High" churn and float slowly, steeped in synthesizers, electric pianos, and studio effects, while legions of artists have attempted to replicate the sound and spirit of Stanga's "Little Sister" and 6ix's "I'm Just Like You" -- two songs graced by the hands of Sly Stone in tripped-out, otherworldly There's a Riot Goin' On mode. It's not one big party, either. Check Baby Huey & the Baby Sitters' harrowing "Hard Times" (written and produced by Mayfield), where the poor and paranoid protagonist subsists on Spam and Oreos and keeps his curtains drawn so he won't see those who peer in on him. The themed playlists and imaginary compilations hiding within this compact box are innumerable, bound to take the average overthinking funk freak to new levels of nerd-dom. There are region-specific sets to be made, as well as sets with possible titles like Latin Funk and Flute Funk and The Early Arrangement and Production Work of the Late Arif Mardin, in addition to a remarkable batch of covers, a tight collection of instrumentals, and a not-very-exclusive list of tracks that have been sampled throughout the years. The accompanying booklet could be sold separately, as it contains scads of seldom-seen photos and scholarly track-by-track notes. Rhino also deserves applause for resisting the urge to house these discs in a massive synthetic afro or an oversized wah-wah pedal. You can snugly tuck this thing between your arm and chest and sense its power run through your whole body. Bring on a second set that extends past the disco era and involves the likes of Slave, Mass Production, Brides of Funkenstein, and Dinosaur.

Source -

Andy Kellman
Liens z'utiles : la référence
Allmusic
, ou pour
vous faire une idée via Spotify
et
des offres très avantageuses
sur Discogs.
H.