The Fabulous Fantoms - Just Having A Party
Posté : 25 août 2013 19:58
The Fabulous Fantoms - Just Having A Party
(Funky Delicacies DEL LP 0035, 2001)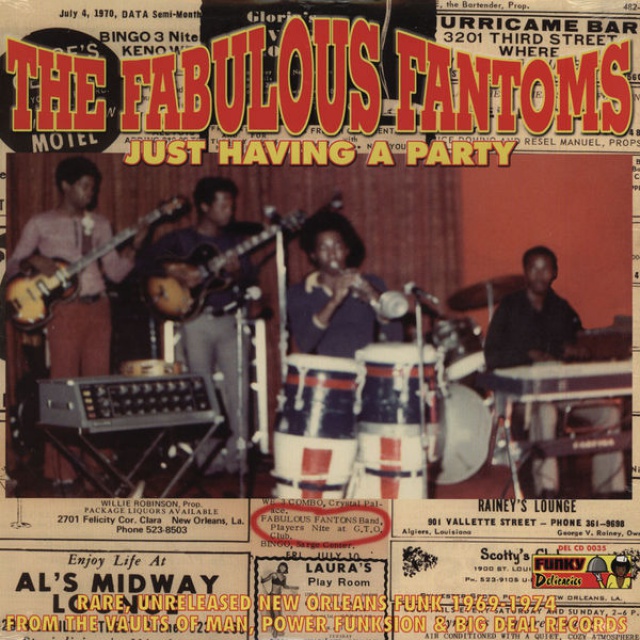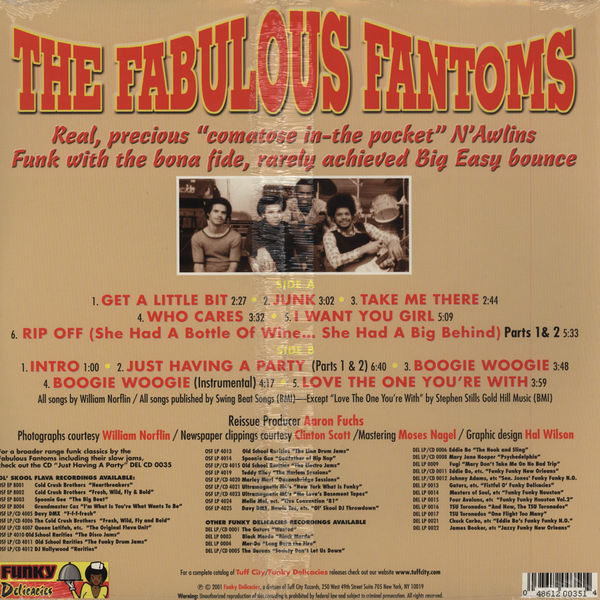 Titres
A1 Get A Little Bit 2:27
A2 Junk 3:02
A3 Take Me There 2:44
A4 Who Cares 3:32
A5 I Want You Girl 5:05
A6 Rip Off (She Had A Bottle Of Wine... She Had A Big Behind) [Parts 1 & 2] 5:33

B1 Intro 1:00
B2 Just Having A Party [Parts 1 & 2] 6:40
B3 Boogie Woogie 3:48
B4 Boogie Woogie [Instrumental] 4:17
B5 Love The One You're With 3:59
Crédits
Écriture :
William Norlfin
Mastérisation :
Moses Nagel
Production (réédition) :
Aaron Fuchs
Format CD
The Fabulous Fantoms - Just Having A Party
(Funky Delicacies DEL CD 0035, 2001)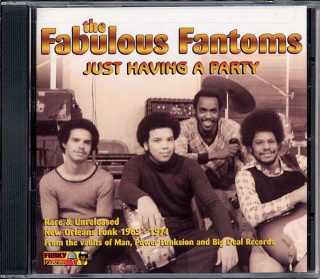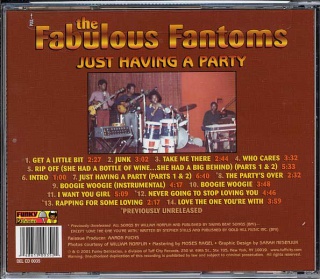 Titres
1 Get A Little Bit
2 Junk
3 Take Me There
4 Who Cares
5 Rip Off (She Had A Bottle Of Wine... She Had A Big Behind)
6 Intro
7 Just Having A Party [Parts 1 & 2]
8 The Party's Over
9 Boogie Woogie [Instrumental]
10 Boogie Woogie
11 I Want You Girl
12 Never Going To Stop Loving You
13 Rapping For Some Loving
14 Love The One You're With
Le CD comporte 14 titres, contre 11 pour le LP, et les 3 morceaux absents du LP sont :
- "The Party's Over" (N°8)
- "Never Going To Stop Loving You" (N°12)
- "Rapping For Some Loving" (N°13)
Ressentis
Les
Fabulous Fantoms
délivrent un Funk poisseux, tellurique, chaud de la Nouvelle Orléans et l'album regroupe la période 1969-1974 des labels
VAULTS OF MAN, POWER FUNKSION & BID DEAL RECORDS
.
Jetez-vous dessus, c'est du bon. La face B est mortelle du début à la fin, écoute faite en boucle. La face A, géniale ; bémol : j'ai trouvé le titre lent, "I Want You Girl" (A5)/(N°5) plat à l'écoute des premières notes mais alors quand le refrain est arrivé, j'ai abandonné toutes pensées négatives, ce refrain est une tuerie de miel qui s'écoule dans le conduit auditif pour napper mes sens.

À l'écoute de l'album, je me disais, c'est exactement le style de son qui donne envie de vendre son âme au diable. Ne me demandez pas pourquoi mais c'est le feeling que j'éprouve, un peu comme dire, tu m'abimes ce vinyle, je t'explose la tête, comme s'il représentait l'essence même du son parfait, un peu comme dans le film/bouquin
(que je conseille)
"Le parfum"
, l'ultime senteur.
Aucuns liens trouvés sur le net.

Mais des extraits sur
Tuff City
où l'on ne trouve plus que le CD alors que le liens d'écoute concerne le LP.
Pour le CD, les extraits sont
ici
,
ici
.

La compilation a été citée par Phil dans le sujet présentant un 45T de
Mary Jane Hooper
(en milieu de page)
.

---------------------------------------------------------------------------------------------------------------------------------
The Fabulous Fantoms sur Funk-O-Logy
‹ Funk/Soul - fin 60's/mi-70's
-->The Fabulous Fantoms - Just Having A Party (Funky Delicacies DEL LP 0035, 2001)
-->Various - Buttshakers Volume 2 (Mr Luckee Records LUCK420-70, 2000)