Bill Spoon – A Spoonful Of Soul
(Soul Junction SJLP5003, 2011)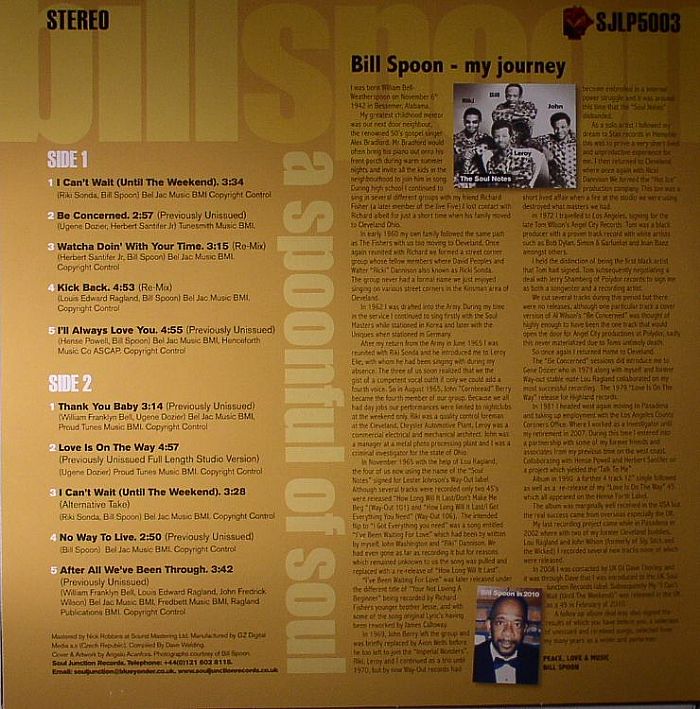 Titres
A1 I Can't Wait (Until The Weekend) 3:34
A2 Be Concerned 2:57
A3 Watcha Doin' With Your Time 3:15
A4 Kick Back 4:53
A5 I'll Always Love You 4:55
B1 Thank You Baby 3:14
B2 Love Is On The Way 4:57
B3 I Can't Wait (Until The Weekend) 3:28
B4 No Way To Live 2:50
B5 After All We've Been Through 3:42
Présentation
Bill Spoon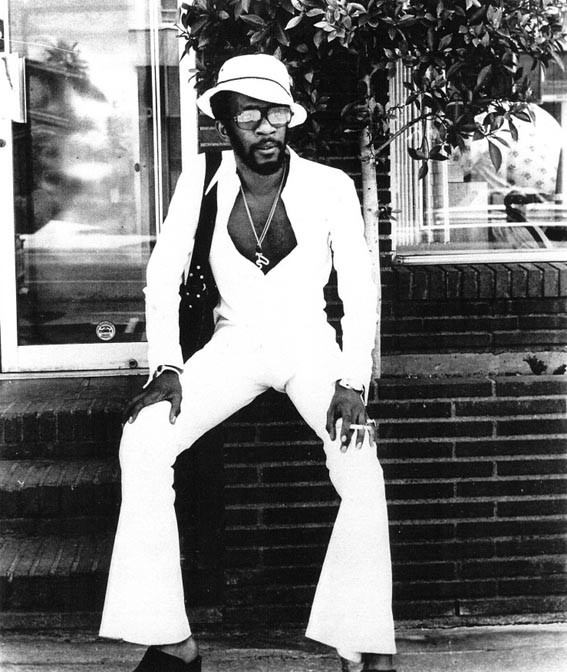 Soul Junction a écrit :

"Release Date: February 14th 2011

As a follow up to Bill Spoons highly successful 45 release of 2010

"I Can't Wait (Until The Weekend)"

we at SOUL JUNCTION have decided to release a vinyl only album of some of Bill's other previously unissued material.

The album features two takes of

"I Can't Wait"

, the 45 cut and the equally soulful but alternative take which on first hearing gives you the impression that it's a duo before you realise its Bill singing both parts!
An excellent version of Al Wilson's

"Be Concerned"

is also featured which Bill claims to have recorded in 1974 which means it predates Al's version by some two years?
Two re-mixed tracks

"Watcha Doin' With Your Time"

and

"Kick Back"

which first appeared on Bill's highly acclaimed Henceforth album, are also featured have been re-worked to great effect.

Also featured is the previously unissued full length studio cut of Bill's modern soul dance anthem

"Love Is On The Way"

coming in at almost five minutes long.

More previously unissued material make up the remainder of the album with

"I'll Always Love You"

and

"After All We've Been Through"

showcasing Bill's expertise in the delivery of a soulful ballad.

So while your listening, you can also peruse the back cover which features a detailed self penned résume of Bill's recording career.

Enjoy!"
Source :
Soul Junction
Plus d'info sur la carrière de
Bill Spoon
via le lien ci-dessus du label
SOUL JUNCTION
et pour écoute.

Encore une rencontre au hasard de mes ballades sur la baie, et j'ai flashé sur la pochette, ce qu'elle dégage, et j'ai acheté l'album sans en connaitre le contenu.

Que dire, c'est du bonheur : une superbe voix, de belles mélodies, du groove mielleux, douceur totale.

Dommage peu de liens sur le net pour découvrir tout l'album mais vous pourrez déjà vous en faire une idée.
"I Can't Wait (Until The Weekend)"
existe en 2 versions : A1 et B3.
"I'll Always Love You"
(A5) : je le trouve très sensible.
"After All We've Been Through"
(B5) magnifiquement porté par des chœurs masculins, le tout est langoureux, c'est beau, romantique.

Première écoute à cette heure tardive et je tombe totalement sous le charme, rien de tel pour se laisser porter vers les songes.

FACE A
Bill Spoon - "I Can't Wait (Until The Weekend)"
(A1)
Bill Spoon - "Be Concerned"
(A2)
Bill Spoon - "I'll Always Love You"
(A5)
FACE B
Bill Spoon - "Love Is On The Way"
(B2)
Je ne sais pas si je suis dans la bonne section / période et style musical : peut être plus Modern Soul, non ?